ICC (Instructional Certification Course)
Simultaneous interpretation will be provided. (English – Korean)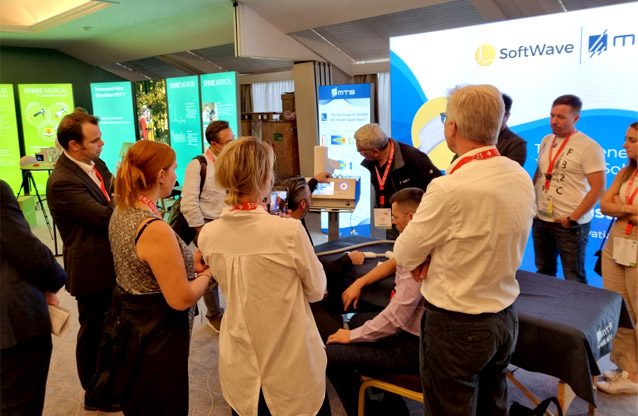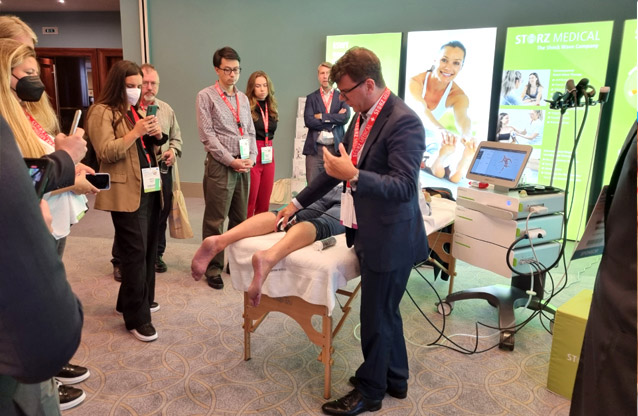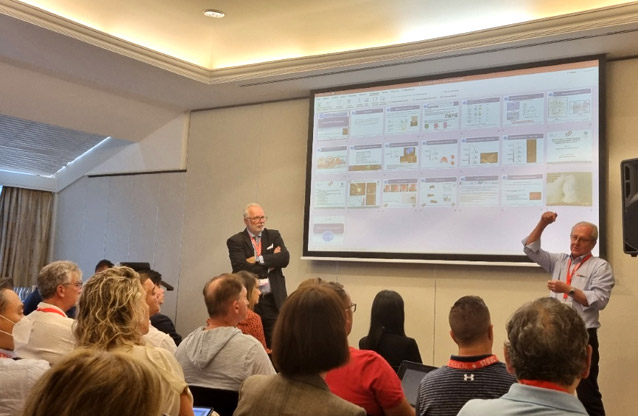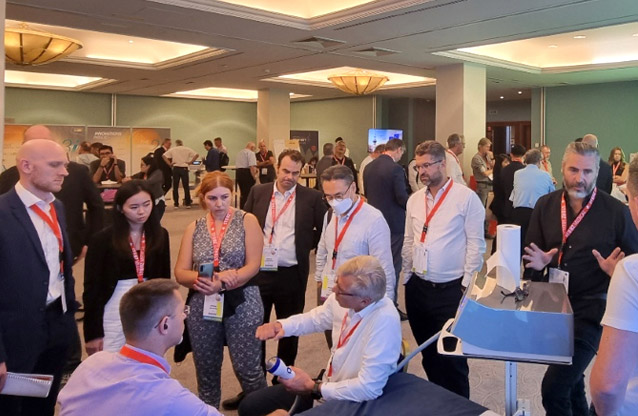 At the congress you will also get the opportunity to take one of the instructional certification courses (ICC) for medical doctors and physiotherapists. The one-day training courses are designed to teach you the basics of technology, indications, contraindications, and practical application of ESWT and radial pressure waves (RPW).
The courses are taught by high-ranking international shock wave masters who will share their knowledge and experience regarding ESWT at the congress. The course for physiotherapists and medical technical assistants is focused on the use of radial pressure waves (RPW), and the course for physicians covers not only RPW, but also ESWT. Each participant should take the final test after taking the courses. Simultaneous interpretation is provided for some sessions.
You can select the ICC when registering for the congress. If you register for both the ICC and the congress, the registration fee of the ICC will be discounted as follows.
Registration Fees
Category
Early Bird
(until May 19, 2023)
Standard
(until 7 July 2023)
Onsite
Congress
Registrants
ICC-
Medical Doctor
250 EUR
300 EUR
350 EUR
ICC-
Physiotherapist
200 EUR
250 EUR
300 EUR
ICC ONLY- MD &Physiotherapist
500 EUR
550 EUR
600 EUR
Certification
ICC is the only program acknowledged by ISMST, and the one and only international certificate will be given to those who have completed the course and the final test. Below is an example of the ICC certificate.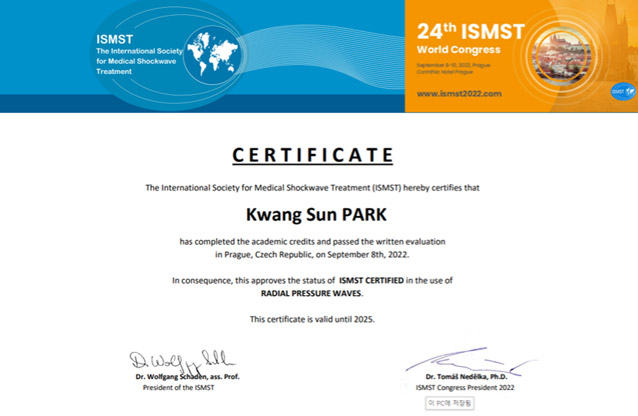 ISMST 2023 - ICC COURSES, Sunday, July 23, 2023
Physicians & Physiotherapists
Time
Topic / Title
Instructor
08:00-08:10
10'
Introduction / Welcome
Prof. Jeong, Dr. Park, Dr.Thiele, Dr.Schaden
08:10-08:30
20'
History and Physics of shockwaves
Dr. Vinzenz Auersperg
08:30-08:40
10'
Differentiation between focsed shcokwaves(ESWT) and radial pressure waves (RPW)
Dr. Sergej Thiele
08:40-09:00
20'
Biological Effects of shockwaves
Dr. Wolfgang Schaden
09:00-09:10
10'
Complications of treatment with shockwaves and radial pressure waves
Dr. Jose Eid
09:10-09:25
15'
Presentation of Sponsors
Sponsors
09:25-09:50
25'
Q&A - Round Table
All Speakers
09:50-10:30
40'
Coffee Break
All
Physicians
Time
Topic / Title
Instructor
10:30-10:45
10'
Basic principles of focused shockwave and radial pressure treatment
Dr. Jose Eid
5'
Discussion
10:45-11:00
10+5
Hands-on Treatment Approach
Dr. Wolfgang Scahden
11:00-11:15
10'
ESWT in Treatment of the Shoulder
Prof. Ludger Gerdesmeyer
5'
Discussion
11:15-11:30
10+5
Hands-on Shoulder-Treatment
Prof. Ludger Gerdesmeyer
11:30-11:45
10'
ESWT in Treatment of the Shoulder
Dr. Ramon Aranzabal
5'
Discussion
11:45-12:00
10'
ESWT on Hand Indications
Prof. Karsten Knobloch
5'
Discussion
12:00-12:15
10+5
Hands-on Hand-Treatment
Prof. Karsten Knobloch
12:15-12:30
10'
Empirically tested Indications
Dr. Ramon Aranzabal
5'
Discussion
12:30-13:30
60'
Lunch
All
13:30-13:50
15'
ESWT for GTPS and Pantella
Prof. Carlos Leal
5'
Discussion
13:50-14:05
10+5
Hands-on for GTPS and Pantella
Prof. Carlos Leal
14:05-14:20
10'
ESWT in the Treatment Achillestendinitis
Prof. Karsten Knobloch
5'
Discussion
14:20-14:35
10'
ESWT on Plantar fasciitis and foot indications
Dr. Karin Freitag
5'
Discussion
14:35-14:50
10+5
Hands-on ESWT for Achilles and Foot
Prof. Karsten Knobloch
5'
Discussion
14:50-15:05
10'
ESWT in Bone- Indications
Dr. Wolfgang Scahden
5'
Discussion
15:05-15:35
30'
Coffee Break
All
15:35-15:50
10'
ESWT on Neuro-Indications
Dr. Tomas Nedelka
5'
Discussion
15:50-16:05
10'
ESWT and Myofascial Treatment
Dr. Hannes Muller-Ehrenberg
5'
Discussion
16:05-16:20
10+5
Hands-on Myofascial Trigger Points
Dr. Hannes Muller-Ehrenberg
16:20-16:35
10'
ESWT for Skin and Aesthetic-Indications
Prof. Karsten Knobloch
5'
Discussion
16:35-16:50
10+5
Hands-on Skin and Aesthetics
Prof. Karsten Knobloch
16:50-17:30
40'
Test
All
Physiotherapists
Time
Topic / Title
Instructor
10:30-10:45
10+5
Basic principles of radial pressure wave treatment
Dr. Sergej Thiele
10:45-11:00
10+5
Hands-on Treatment Approach for radial pressure waves
Dr. Sergej Thiele
11:00-11:20
15'
RPW on Spasticity
Dr. Tomas Nedelka
5'
Discussion
11:20-11:35
10+5
Hands-on Spasticity
Dr. Tomas Nedelka
11:35-11:55
15'
RPW in the Treatment Myofascial Indications: Neck and Shoulder
Dr. Kwang Sun Park
5'
Discussion
11:55-12:10
10+5
Hands-on Myofascial Treatment neck/shoulder
Dr. Hannes Muller-Ehrenberg
12:10-12:30
15'
Pain and RPW as Teamplay: Combined Therapies
Prof. Ludger Gerdesmeyer
5'
Discussion
12:30-13:30
60'
Lunch
All
13:30-13:50
15'
RPW in the Treatment Myofascial Indications: lumbal Region
Dr. Hannes Muller-Ehrenberg
5'
Discussion
13:50-14:05
10+5
Hands-on Myofascial Treatment : lumbal
Dr. Hannes Muller-Ehrenberg
14:05-14:20
10'
RPW for Muscle sprain
Dr. Sergej Thiele
5'
Discussion
14:20-14:35
10'
RPW for GTPS
Prof. Carlos Leal
5'
Discussion
14:35-14:50
10+5
RPW for Tendinitis of the Patella
Prof. Carlos Leal
Discussion
14:50-15:05
10+5
Hands-on GTPS and Patella
Prof. Carlos Leal
15:05-15:35
30'
Coffee Break
All
15:35-15:50
10'
RPW for Archilles-Tendinitis
Prof. Karsten Knobloch
5'
Discussion
15:50-16:05
10'
Hands-on Archilles-Tendinitis
Prof. Karsten Knobloch
5'
Discussion
16:05-16:20
10+5
RPW for Plantar Fasciitis
Dr. Karin Freitag
Discussion
16:35-16:50
10+5
Hands-on Epicondylitis and Hand
Dr. Sergej Thiele
16:50-17:30
40'
Test
All